Ten dead in shooting after lunar new year festival near Los Angeles
Deceased include five men and five women as police identify suspect as 72-year-old man who died of self-inflicted gunshot
Ten people were killed and at least 10 others hospitalized after a gunman opened fire in a ballroom dance studio on Saturday night in a city close to Los Angeles.
The mass shooting, one of California's worst in recent memory, happened hours after a lunar new year festival that attracted tens of thousands of revelers in Monterey Park, a majority-Asian American city.
An hours-long manhunt led police to surround and enter a white van. Sheriff Robert Luna identified the shooting suspect as Huu Can Tran, 72, who died from a self-inflicted gunshot wound.
Tran was stopped by law enforcement in Torrance, California, around 10.30am, on Sunday morning. Law enforcement officials heard one gunshot from within the van, Luna said at a press conference on Sunday evening.
"We are able to say that justice has been done … but we also know this is just the beginning," the Monterey Park mayor, Henry Lo, said."Our priority is to make sure those victims, their family members, are given the assistance they need to heal and get over their trauma."
The shooting and manhunt sent a wave of fear through Asian American communities in the Los Angeles area and cast a shadow over Lunar New Year festivities around the country. Other cities sent extra officers to watch over the celebrations.
Scant details have been released about the victims, who have yet to be publicly identified, but the deceased include five men and five women.
The coroner's office was "still in the process of identifying" the victims who were killed, Luna said. He promised more information "as the days go on".
The victims appear to have been in their 50s, 60s and "maybe even some beyond there", he added.
Dance instructors who taught classes at the Star Ballroom Dance Studio in Monterey Park told news outlets that the ballroom studio served a predominantly older, Asian American clientele. "There's definitely going to be people in their 70s, 80s, people in their 90s," an instructor, David DuVal, told the Los Angeles Times.
The department on Sunday afternoon tweeted an image of the suspect in the shooting, with a picture showing an adult Asian male wearing a black leather jacket, wooly hat and glasses.
It was too early to say what the motive was for the shooting, according to Capitan Andrew Meyer of the sheriff's department, but he added: "We will look at every angle as far as whether it was a hate crime or not."
The sheriff department's homicide bureau is being assisted by the FBI and investigators from the Bureau of Alcohol, Tobacco, Firearms, and Explosives.
Prominent local and national figures have reacted to the latest massacre with anger and dismay.
"This is a horrific crime," said Judy Chu, the US congresswoman who represents the area and who used to be the mayor of Monterey Park.
She said of herself and other officials at a press conference that "hours earlier all of us standing here were at the new year festival just two blocks away. This is a time of celebration for the AAPI [Asian American and Pacific Islander] community and Asians all over the world."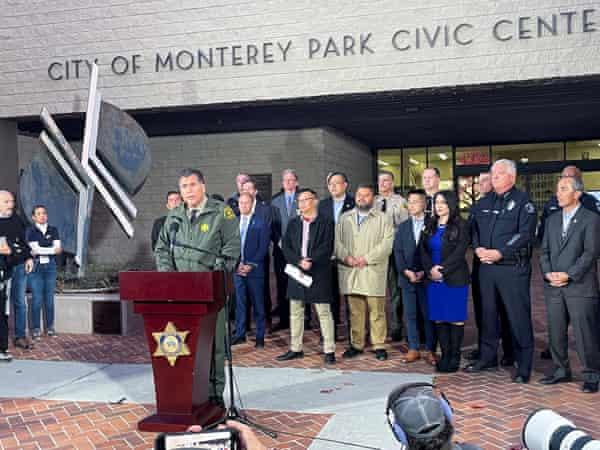 The shooting took place around 10.20pm on Saturday in Monterey Park, a city of about 60,000 people located 7 miles east of downtown Los Angeles, where earlier in the day crowds had gathered to celebrate the eve of the lunar new year, a major holiday in many south-east Asian communities.
A subsequent incident in a dance hall occurred in neighboring Alhambra, where several people wrestled a firearm away from a male Asian suspect, according to the police. Luna, who said the two incidents were connected, later identified that man as Tran. He said two patrons wrestled the assault pistol with an extended magazine clip away from Tran, who sped away in a white van.
The death toll could rise, with some of the injured people remain in critical condition, authorities said on Sunday. The second day of the festival, to mark the first day of the lunar year of the rabbit, has been canceled, authorities said.
Monterey Park's population is around 65% Asian American and 27% Latino, according to census data. The city was the first on mainland US to have a majority of residents with Asian ancestry, as migrants from Taiwan, China, Japan and Vietnam settled in the community.
Bing Hao, 25, was walking with some friends near the crime scene on Sunday afternoon and stopped to talk briefly, saying he was at the new year festival on Saturday morning.
"I heard a rumor that this was about an employee fired from the ballroom and is getting his revenge," he told the Guardian. "I don't know if that is true or not, but it was during lunar new year which is a really important day for Asian people, and people died."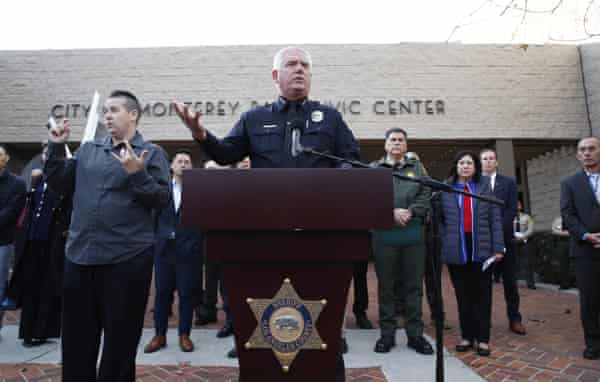 Hao lives near the high school and said it was considered a really safe area.
"We live near here and never heard about a shooting in Monterey Park [before]. I felt shock, Asian people usually don't carry guns. It's new years, maybe save the hate for a different time – I'm not gonna come out at night, I'm going to stay home."
It is the deadliest single shooting event in the US since the massacre in Uvalde, Texas, last May which left 19 children and two teachers dead, and the second mass shooting in less than a week in California. Last Monday, a 16-year-old girl and her 10-month-old baby in Tulare county, northern California, were among six victims of what police said was a suspected gang related shooting.
Seung Won Choi, who owns the Clam House seafood barbecue restaurant across the street from where the shooting happened, told the Los Angeles Times three people rushed into his restaurant and told him to lock the door. The people told Choi there was a shooter with a machine gun who had multiple rounds of ammunition on him so he could reload.
California governor Gavin Newsom said: "Monterey Park should have had a night of joyful celebration of the lunar new year. Instead, they were the victims of a horrific and heartless act of gun violence."
"Our hearts go out to those who lost loved ones tonight in our neighboring city, Monterey Park, where a mass shooting just occurred," said Los Angeles City controller Kenneth Mejia, the first Asian American to hold citywide office.