China frees detained Canadians Michael Kovrig and Michael Spavor, Trudeau says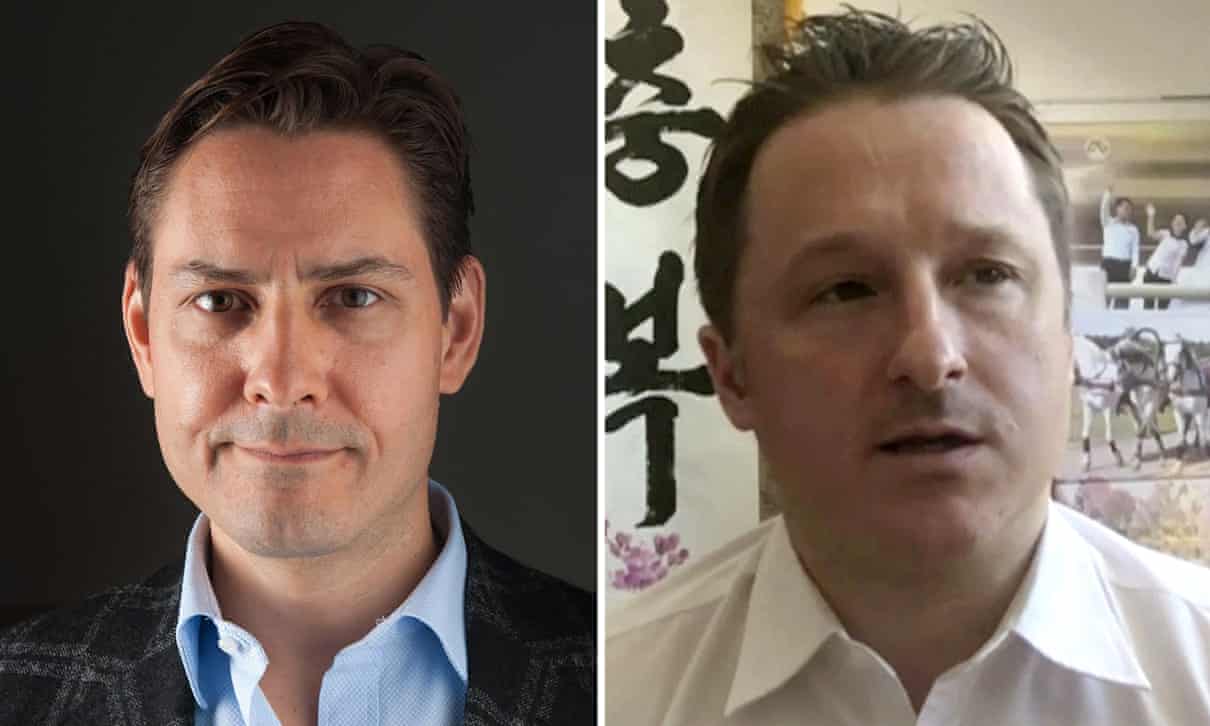 The men, who were detained by Beijing in 2018, were released hours after Huawei executive Meng Wanzhou was freed in Canada
Two Canadian citizens who were detained by Beijing for more than 1,000 days have left Chinese airspace and will arrive back in Canada early on Saturday, prime minister Justin Trudeau told reporters.
A plane carrying Michael Kovrig and Michael Spavor left Chinese airspace around 7.30pm Ottawa time, just hours after US authorities reached an agreement allowing Chinese Huawei executive, Meng Wanzhou, to return to China in exchange for admitting wrongdoing in a fraud case. Shortly before Trudeau spoke, Meng boarded a chartered flight organised by the Chinese government to Shenzhen, Chinese state media reported. Zhao Lijian, ministry of foreign affairs spokesperson, said her return was enabled by the "unremitting efforts of the Chinese government".
The two Michaels, as they came to be known, were detained in December 2018 on accusations of espionage, shortly after Vancouver police arrested Meng on a US warrant, over allegations she and the company breached economic sanctions on Iran.
The two Michaels maintained their innocence, and Canada and other western governments had accused China of engaging in "hostage diplomacy", arbitrarily arresting the men on charges Canada said were baseless.
"Twelve minutes ago Michael Kovrig and Michael Spavor left Chinese airspace on their way back home," Trudeau told reporters in brief remarks on Friday. They were accompanied by Canadian ambassador Dominic Barton.
"These two men have been through an unbelievably difficult situation, but it is inspiring and it is good news for all of us that they are on their way home to their families."
"For the past 1,000 days they have shown strength, perseverance, resilience and grace, and we are all inspired by that.
Spavor – who lived near the North Korean border and arranged cultural exchanges – was accused of supplying intelligence to Kovrig, a former diplomat turned analyst for the International Crisis Group, according to state media. They were tried in secret.
China has long denied their arrest was at all connected with Meng's detention, while simultaneously suggesting their fates were tied to hers. In the end, China released the two Michaels without providing any legal reason. Spavor had been sentenced to 11 years in prison last month, while Kovrig's verdict, following a secret trial in March, was yet to be announced.
At the same time as the two Michaels were arrested, Chinese authorities also increased the sentence against fellow Canadian Robert Schellenberg, from 15 years in jail to a death sentence.
At least four other Canadians are on death sentences in China, with escalations in their cases coinciding with developments in Meng's case, Margaret McCuaig-Johnston, a senior fellow at the University of Ottawa told the National Post in March.
At the short press conference on Friday, Trudeau would not be drawn on how the case had affected the relationship with China. He said he had spoken to China's leader, Xi Jinping, "a number of years ago" about the case, and Canada would continue to stand up for Canadians' interests around the world.
"Right now the focus is on getting them home safe," he said.
"I want to thank our allies and partners around the world in the international community who have stood steadfast in solidarity with Canada and with these two Canadians," he said.
The US secretary of state, Anthony Blinken, said the US government was pleased the men were returning to Canada, and stood with the international community in welcoming China's decision to release the men "after more than two-and-a-half years of arbitrary detention".
Earlier on Friday the US department of justice announced it had reached a deal with Meng, Huawei's chief financial officer and daughter of the company's founder, for a deferred prosecution. Under the deal, Meng admitted to wrongdoing in key elements of the case, including misleading unnamed financial institutions about the business relationship between Huawei and a subsidiary in Iran.
Prosecutors recommended she be released and returned home. Meng had been held under loose house arrest conditions which allowed her to travel around Vancouver during the day, and return to her home in an upmarket suburb of the city at night. During the pandemic her husband, son and daughter were able to visit her.
"Over the past three years my life has been turned upside down. It was a disruptive time for me as a mother, as a wife," Meng told reporters and supporters after the hearing.
"But I believe every cloud has a silver lining. It really was an invaluable experience in my life. I will never forget all the good wishes I received from people around the world," she said.