Canadian man charged with murder after allegedly driving into Muslim family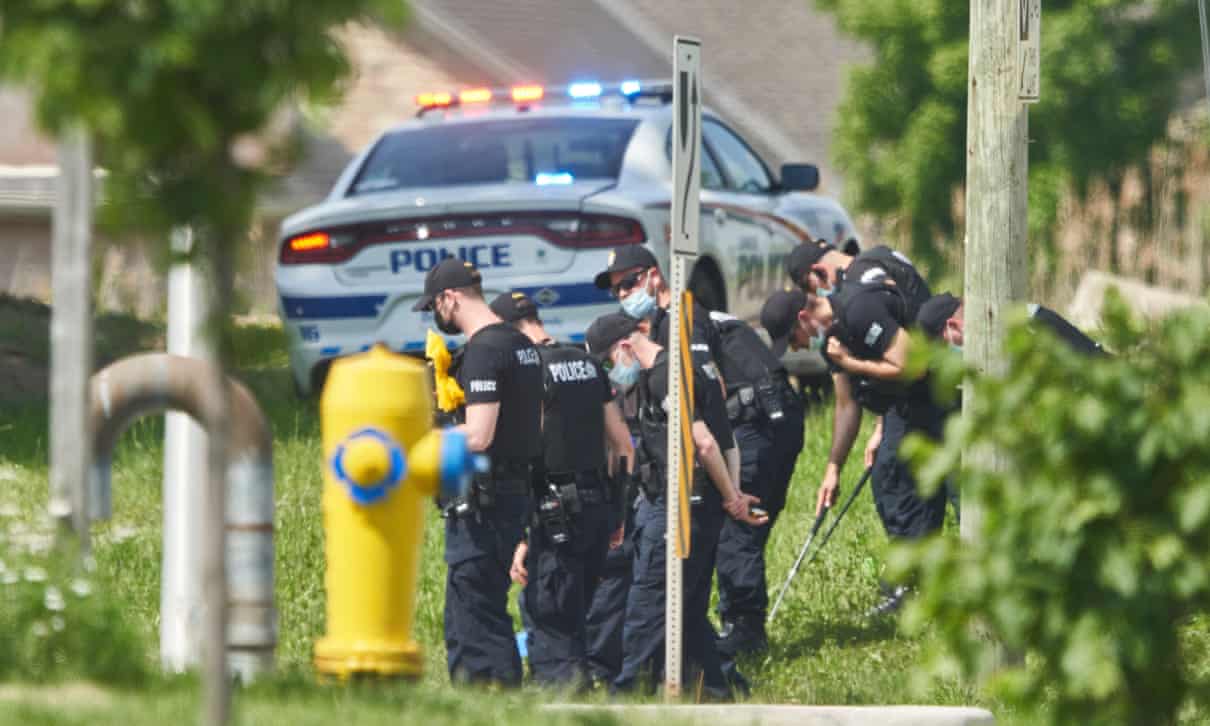 Two women, a man and a girl were killed on Sunday when Nathaniel Veltman drove a pickup truck into pedestrians, police say
A 20-year-old Canadian man has been charged with four counts of first-degree murder and one of attempted murder after driving his pickup truck into a Muslim family in what police described as "a premeditated attack".
Two women, aged 74 and 44, a 46-year-old man and a 15-year-old girl – a grandmother, mother, father and their teenage daughter – were killed on Sunday night when Nathaniel Veltman ploughed his black pickup truck into a group of pedestrians in the city of London, Ontario, police said.
The lone survivor, a nine-year-old boy, remains in hospital with serious but non-life-threatening injuries. The victims' family has requested the names not be released.
The London police service chief, Steve Williams, said on Monday that investigators "believe this was an intentional act" and that "the victims of this horrific incident were targeted because of their Islamic faith".
Williams added that Veltman appeared to be wearing a "body armour-like" vest when police arrested him in a mall parking lot after he sped away from the scene.
Paige Martin, who witnessed the aftermath of the attack, said she thought it was initially "an erratic driver".
As she drove closer, she saw a chaotic scene of first responders, police – and bodies lying on the ground. "I can't get the sound of the screams out of my head," Martin told the Associated Press (AP).
Veltman has no previous criminal history. Police do not yet know if he was a member of any hate groups and officials did not describe what evidence they had found confirming that this was a planned attack.
Williams said that federal authorities have been called to assist to investigate the possibility of terrorism charges.
"This was an act of mass murder perpetuated against Muslims," said the London mayor, Ed Holder. "It was rooted in unspeakable hatred. The magnitude of such hatred can make one question who we were as a city."
In a statement, Holder said: "I speak on behalf of all Londoners when I say our hearts are broken. We grieve for the family, three generations of whom are now deceased. We weep for their loved ones. We pray for the recovery of the nine-year-old boy who remains in hospital."
Justin Trudeau said in a tweet that he was "horrified" by the news. "Islamophobia has no place in any of our communities. This hate is insidious and despicable – and it must stop," the prime minister wrote.
The Ontario premier, Doug Ford, also expressed condolences in a tweet and demanded a stop to "these heinous acts of violence".
The attack and arrest have sent shockwaves across Canada and are being seen as an extreme example of violence Muslims in Canada have suffered in recent years.
From 2015 to 2019, the National Council of Canadian Muslims (NCCM) tracked more than 300 incidents, including more than 30 acts of physical violence. These include a gun attack on the Islamic Cultural Centre of Quebec on 29 January 2017, which left six dead and 19 injured in one of the deadliest mass shootings in Canada's recent history.
Mustafa Farooq, CEO of NCCM, said he was "numb" when he heard the news. He said the family was known as longstanding and "loving members of the Muslim community" in London.
Zahid Khan, a family friend, told the AP "they were just out for their walk that they would go out for every day".
Farooq said: "This is a terrorist attack on Canadian soil, and should be treated as such. This has had a chilling effect on the community. Something has to change to end the violence against Muslims in Canada."