Mahrez fires Manchester City into first Champions League final after win over PSG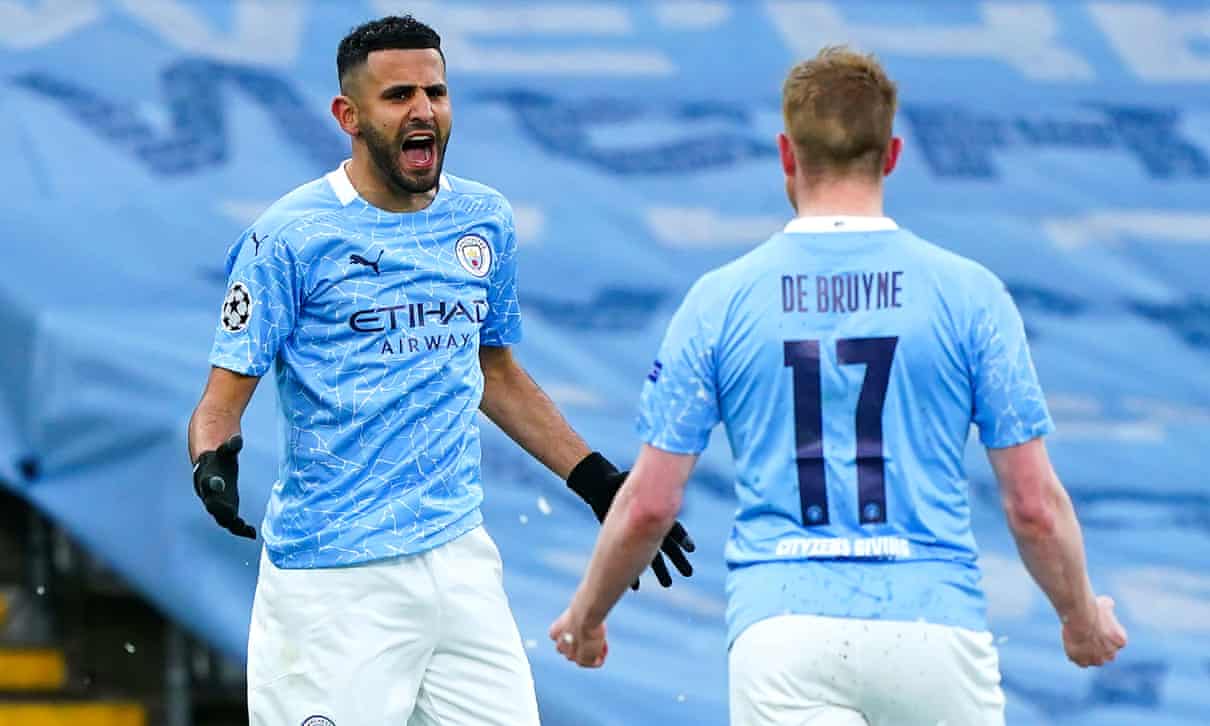 It was the classic sucker punch, a counter-attacking masterpiece and, when Phil Foden crossed and Riyad Mahrez scooped the finish high into the Paris St-Germain net, the only disappointment was that the stands at the Etihad Stadium were empty. What a scene it would have been.
At that point, Mahrez had two, PSG were broken, having previously hinted at getting the goal they needed to make a game of it, and Manchester City knew. For the first time in their history, they are going to the Champions League final.
When the money started pouring in from Abu Dhabi, this was the dream. It has taken time and the journey has taken in plenty of angst and heartbreak. And yet now the club are one game against either Chelsea or Real Madrid in Istanbul from the ultimate glory.
Pep Guardiola had predicted that his City players would suffer and they did. They put their bodies on the line to keep PSG at bay, with all of their defenders excellent but, when Mahrez plundered for the second time, the tension melted away.
City had managed the tie and their emotions; PSG lost themselves in the rush to exact the wrong kind of vengeance. Ángel Di María was sent off for a petulant stamp on Fernandinho and there would be a flutter of yellow cards for them, with some verging on a darker colour.
A pre-match statistic had shown that of 319 teams to have won the first-leg of a European Cup or Champions League tie away from home, only eight had failed to progress – and none of them were from England. One of them had been PSG, who were eliminated by Manchester United in 2018-19 and another was Ajax in that same season – humbled by Pochettino's Spurs in the semi-final.
Pochettino's focus and that of everyone else was on this moment and on this pitch, which began the game flecked by hailstones. In early May. The groundstaff had needed to rake it off the lines before kick-off. The surreal comes as standard these days and the underfoot conditions were tricky.
Against the chill, City's nerves had jangled early on, and so had those of the referee, Björn Kuipers, who pointed to the penalty spot on six minutes after PSG appeals for a handball against Oleksandr Zinchenko. An Abdou Diallo cross had flicked off Rúben Dias and crashed into Zinchenko's shoulder and it really was a mystery as to why Kuipers made his decision. Happily for City, VAR made the over-rule.
City felt better when they took the lead and it was Ederson who got the move started with a magnificent long ball from the edge of his own area for the onrushing Zinchenko. PSG were caught cold. With Phil Foden tearing into the six-yard box, Zinchenko's cut back smartly for Kevin De Bruyne and, when his shot was blocked by Alessandro Florenzi, the ball broke for Riyad Mahrez, who finished from a tightish angle.