Biden promises 'historic' $2tn spending in infrastructure – but Capitol Hill fight awaits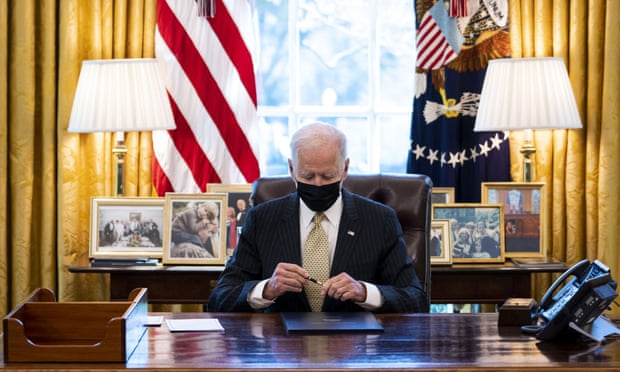 Joe Biden will unveil an expansive $2tn proposal to rebuild the country's infrastructure, confront climate change and curb wealth inequality, part of a sweeping spending package that could define the president's economic legacy.
Biden's plan, which he will lay out at a speech in Pittsburgh on Wednesday afternoon, includes "historic and galvanizing" investments in traditional infrastructure projects such as roads, bridges and highways, as well as hundreds of billions of dollars to fortify the electricity grid, expand high-speed broadband and rebuild water systems to ensure access to clean drinking water, an administration official said on Tuesday. It also seeks to expand access to community care facilities for seniors and people with disabilities and invest in research and development and workplace training.
He will propose paying for the new spending with a substantial increase on corporate taxes that would offset eight years of spending over the course of 15 years, officials said. Among the changes, Biden will call for a rise in the corporate tax rate to 28% from 21% and measures to force multinational corporations to pay more taxes in the US on profits earned abroad. The tax plan would unwind major pieces of Donald Trump's tax-cut law, which lowered the corporate tax rate from 35% to 21%.
The package, known as the American jobs plan, is only the first part of the president's sprawling infrastructure agenda. Aides say he will present a second legislative package next month that will focus on investments in healthcare, childcare and education. That package is expected to be paid for, at least in part, by raising taxes on the nation's highest earners.
As a candidate, Biden promised not to raise individual taxes on those earning less than $400,000.
The scale of the proposals, together expected to cost as much as $4tn, has been compared to Franklin Roosevelt's New Deal or Lyndon Johnson's Great Society. A memo outlining its ambition states: "Like great projects of the past, the president's plan will unify and mobilize the country to meet the great challenges of our time: the climate crisis and the ambitions of an autocratic China."
Biden's allies on Capitol Hill are gearing up for a fight over the infrastructure legislation that will likely prove to be significantly more contentious than the swift passage of Biden's $1.9tn economic aid bill, which was enacted earlier this month with only Democratic votes.
While the urgency of the pandemic helped Democrats overcome a handful of objections to pass Biden's coronavirus relief plan, there is infighting over what belongs in the package – and whether the administration should spend time attempting to forge a bipartisan consensus.
Both Democrats and Republicans share a goal of fixing the nation's ageing roads, bridges and other critical infrastructure. Yet they disagree sharply on the details – how much to spend, what constitutes "infrastructure" and how to pay for the investments. This chasm was too big for either Barack Obama or Trump to overcome and both failed to make progress after promising to rebuild the country's infrastructure.