Turkey-Syria earthquake: New-born and mother saved after four days in rubble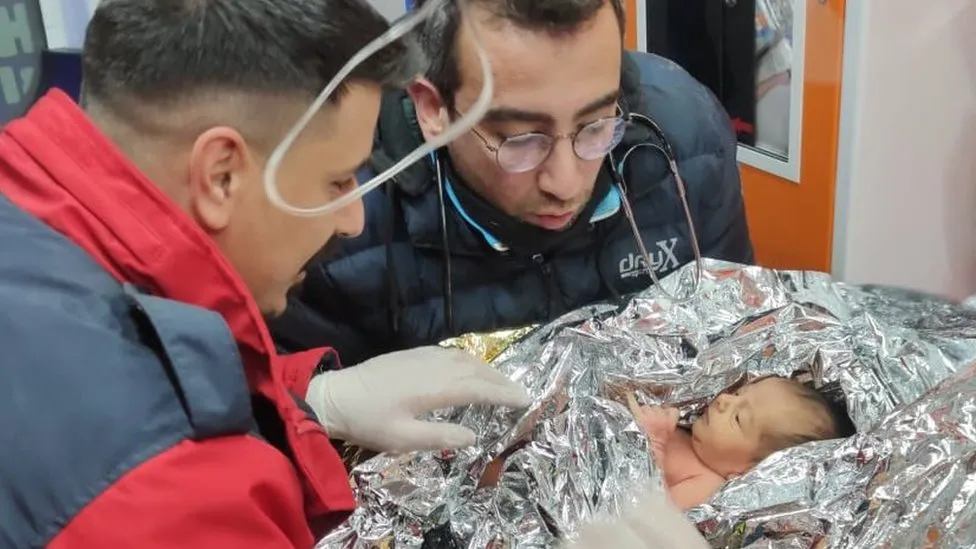 A new-born baby and his mother have been rescued from rubble in Turkey, around 90 hours after the first of Monday's deadly earthquakes.
The 10-day-old boy, named Yagiz, was retrieved from a ruined structure in the southern Hatay province.
Footage showed the child being carefully taken out overnight - a sight described by local media as miraculous.
Hopes of finding many more survivors are diminishing, amid freezing-cold weather four days after the disaster.
However, search and rescue efforts continue in both Turkey and neighbouring Syria - which was struck by the quakes as well.
New-born Yagiz was pictured wrapped in a thermal blanket being carried to an ambulance to receive treatment.
His mother was brought out on a stretcher. There were no further updates immediately available over the health of both.
Istanbul Mayor Ekrem Imamoglu - whose teams were reportedly involved in the rescue - tweeted about the rescue, saying it happened in the town of Samandag.
Footage obtained by the Reuters news agency also showed a man being retrieved from the ruins, though it was not known if he had any connection to the other two.
More than 21,000 people have died - most of them in Turkey - after Monday morning's initial 7.8-magnitude tremor and the hundreds of aftershocks that followed.
There have also been fears of a secondary catastrophe, as many people have been made homeless and are lacking shelter, water, fuel and electricity.
Turkish President Recap Tayyip Erdogan has described it as the "disaster of the century".
Opposition figures have accused Mr Erdogan of failing to prepare for the earthquake and have questioned how estimated 88bn lira ($4.6bn; £3.8bn) raised from an "earthquake tax" was spent. The levy - first imposed in the wake of a massive quake in 1999 that killed more than 17,000 people - was meant to have been spent on disaster prevention and the development of emergency services.
Kemal Kilicdaroglu, the leader of Turkey's main opposition party said on Wednesday that said Mr Erdogan's government "has not prepared for an earthquake for 20 years".
Despite the devastation, stories of remarkable escapes or heroic rescues have been emerging over the past days.
Thousands of people have offered to adopt a baby girl who was born under a collapsed building in north-west Syria.
When she was rescued, baby Aya - meaning miracle in Arabic - was still connected by her umbilical cord to her mother, who died along with other family members.