Morocco to ban flights to and from UK over rising Covid rates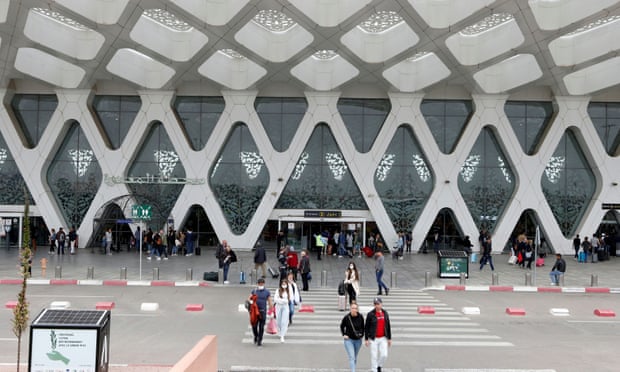 Suspension will take effect from 11.59pm on Wednesday and will last until further notice
Morocco is banning flights to and from the UK because of rising coronavirus case rates. Airlines cancelled several flights between the countries on Wednesday before the suspension comes into effect at 11.59pm.
Latest figures from the European Centre for Disease Prevention and Control show the north African country's weekly rate of reported coronavirus cases on 14 October stood at 10.4 per 100,000 people. The UK's comparable rate is 445.5.
EasyJet cancelled two flights from Gatwick and Manchester to Marrakech on Wednesday, but will operate flights in the opposite direction to bring passengers back to the UK before the ban comes into force. "We are still awaiting clarity from the Moroccan authorities as to whether we are permitted to operate repatriation flights beyond midnight today," the airline said.
British Airways cancelled flights between Heathrow and Marrakech, which were due to resume on Thursday after being suspended because of the pandemic. The flight ban will affect families in England and Wales who booked half-term holidays in Morocco for next week.
Morocco's national office of airports said the policy would remain in place "until further notice". It is also banning flights to and from Germany and the Netherlands.
The news was met with dismay on Twitter, especially from people who had booked a trip to Morocco for their first holiday in two years because of the pandemic.
One wrote: "Devastated. First holiday for 2 years arranged and a special one as probably last as a family as our kids in late teens."
Karl Aldred tweeted: "Booked a last-minute honeymoon deal to Morocco in two weeks (our first holiday in 2yrs) and then what happens? Literally MINUTES later Morocco shuts its borders to UK travellers! Can't catch a fucking break with this pandemic."
Another described themselves as a "cauldron of anger and despair", saying: "Apart from a few days last Christmas, I haven't had any time off work since Feb 2020. And, thanks to those people that won't wear a mask or get vaccinated, I won't get to go away next week now."
James Plowright, a sports journalist, tweeted: "On Monday I'm supposed to be flying to Morocco for a 10-day holiday, my first in two years. Today Morocco cancelled all flights unexpectedly from the UK and has suspended them until December."
On Tuesday, the UK reported its highest number of Covid deaths for seven months, with 223 recorded within 28 days of a positive test. The daily death rate, by date reported, has not been as high since 9 March, while the toll was greater than on the same day last year, shortly before the prime minister felt the situation sufficiently grave to impose a one-month lockdown in England.
There have been calls for some control measures to be introduced, with the UK's weekly rates of new cases reported to be among the highest in the world. Some scientists and health experts have said ministers should activate the "plan B" winter measures.
If not, England risks "stumbling into a winter crisis", warned Matthew Taylor, chief executive of the NHS Confederation, which represents health bodies. He called for ministers to come up with a "plan C" comprising even tougher restrictions if measures such as masks and vaccine passports proved insufficient.
On Wednesday the business secretary, Kwasi Kwarteng, ruled out further lockdowns and said the return of some lesser restrictions in England was not needed "for now".
Downing Street has said the number of hospital admissions and deaths are still "substantially lower" than earlier in the year.
"The important thing is the fact that our vaccination programme has been successful in breaking the link between cases and hospitalisations and deaths," a No 10 spokesperson said. "Our focus remains on ensuring we get boosters out to those who are eligible."
They added: "There isn't any proposed plan for any further lockdowns. We are sticking to the autumn and winter plan we have set out."