Green list countries: New rules for England revealed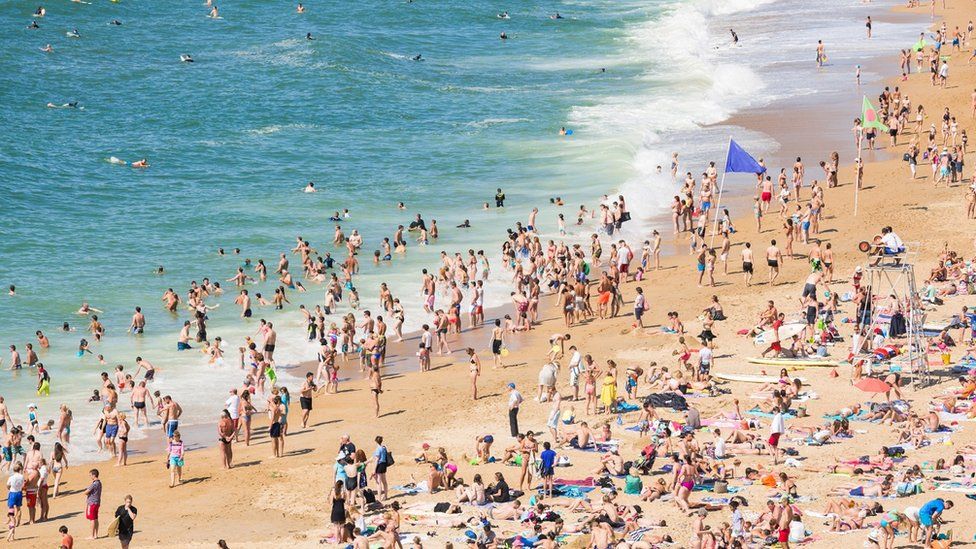 Twelve destinations have been put on a green travel list for people in England, meaning anyone returning will not need to quarantine from 17 May.
A new traffic light system of rules means international travel will no longer be illegal.
However, places on the green list - which includes Portugal, Israel and Gibraltar - have their own restrictions on who can visit from abroad.
The transport secretary said the UK approach was "necessarily cautious".
But the travel industry has said it is too cautious and called it a reopening of air travel "in name only".
Turkey, the Maldives and Nepal will be added to England's red list of countries from 04:00 BST on Wednesday 12 May, meaning travellers from those destinations will have to quarantine in a hotel for 10 days on their return.
The biggest group is the amber list - which includes popular European destinations such as Spain, Italy and France.
People returning from those countries have to isolate from home for at least five days - but Mr Shapps said no-one should be travelling to those destinations at the moment.
Scotland, Wales and Northern Ireland have not said when they might ease their strict travel restrictions, but Transport Secretary Grant Shapps said all four of the UK's chief medical officers agreed on the principles behind the traffic light system.
Speaking at a Downing Street briefing, Mr Shapps said the changes were a "tentative" first step to opening up travel, as there remained "concern about the resurgence of Covid".
The long-awaited restart of international travel is less throwing open the doors, more opening them a crack.
That's a deliberate decision by the government, which is hoping to reassure those who are nervous about opening the country's borders while also giving a small concession to the travel industry.
Some in the industry are not impressed, calling the list a "missed opportunity".
Many of the transport secretary's comments - he dissuaded passengers from travelling to amber countries and warned them to expect queues at the border - will be seen as trying to dampen down demand, just at the moment when the industry was hoping to start to ramp up.
Ultimately, the real test will be in a few weeks' time when the government will announce the green list for June. The industry will be hoping it's a little longer than this list.
Mr Shapps said people looking to travel overseas should check any restrictions that apply to new arrivals, and not book trips which do not include a refund should the Covid situation change.
Countries on the green, amber and red lists would be reviewed every three weeks from 17 May, he added.
Spain's ministry of tourism said the decision had no immediate effect with restrictions still in place for non-essential travel from the UK.
But a spokesperson said Madrid "reiterates its conviction that this summer it will be possible for British citizens to spend their holidays in Spain" and it predicts that in June "we will be able to start the reactivation of international travel".
"No-one enjoys a holiday more": A restaurant owner in Portugal is excited to welcome back tourists from England
The travel industry has been largely critical, with Airlines UK calling the move a missed opportunity and "a reopening of air travel in name only" which leaves the UK "at risk of falling behind".
Andrew Flintham, managing director of holiday firm Tui, said it was "an overly cautious start".
Easyjet chief executive Johan Lundgren said: "The decision to put so few European countries into the green tier is simply not justified by the data or the science and is inconsistent with the approach to reopen the domestic economy."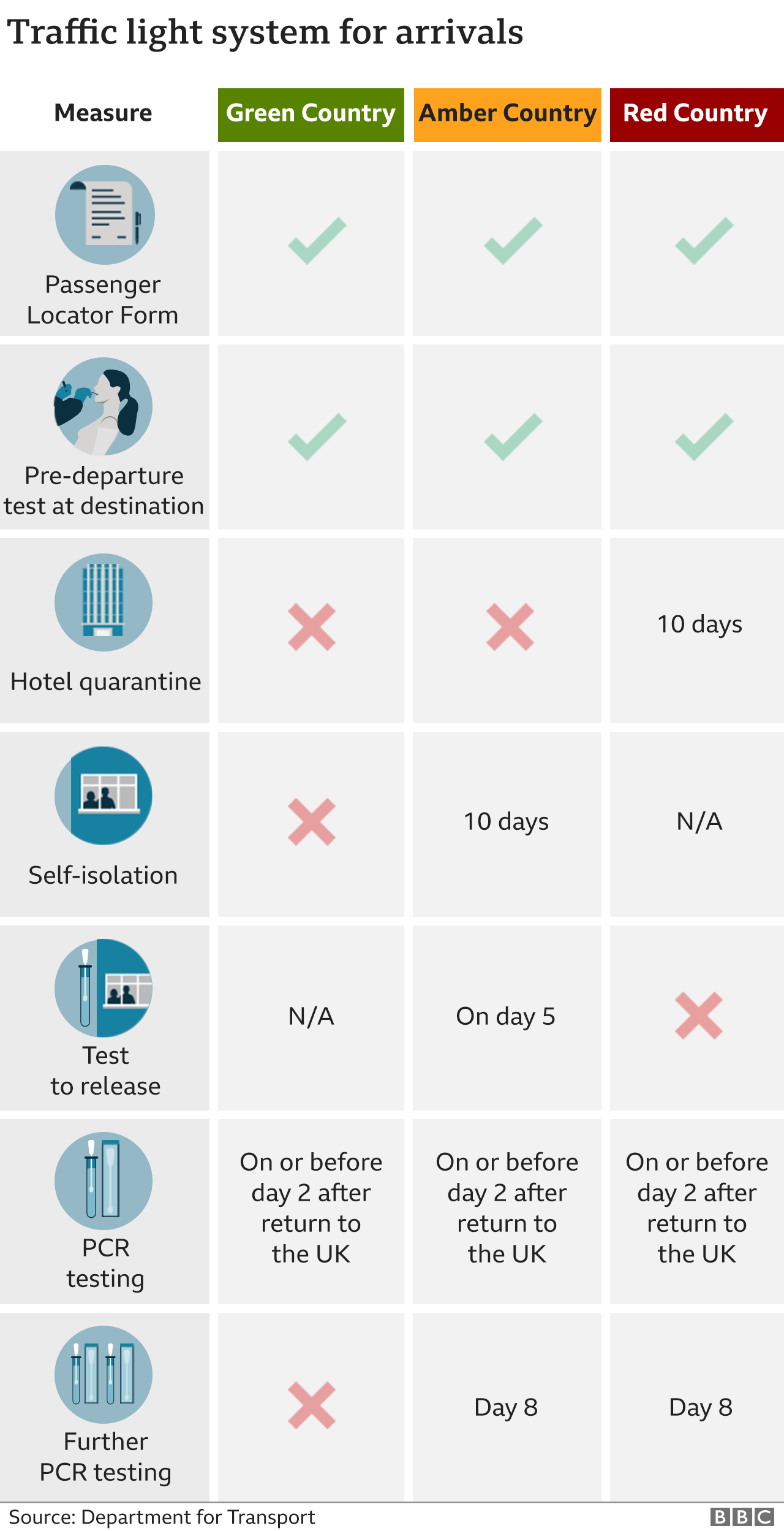 Travellers have also been warned of queues at the UK border when they return.
Border Force director Paul Lincoln said the increased delays would be at each stage of their journeys, with staff required to check "100%" of all travellers coming through.
Red list countries have the strictest rules, with only UK or Irish nationals and UK residents allowed to return. They must pay for a 10-day stay in a government-approved quarantine hotel.
Asked what Turkey being added to the red list means for the Champions League final between Manchester City and Chelsea in Istanbul, Mr Shapps said fans should not travel to Turkey.
He added that the Football Association is in discussions with European football's governing body UEFA about the UK hosting the final.
The full list of 12 countries and territories people in England can travel to without having to quarantine upon return are:
Portugal
Israel
Singapore
Australia
New Zealand
Brunei
Iceland
Gibraltar
Falkland Islands
Faroe Islands
South Georgia and the South Sandwich Islands
St Helena, Tristan de Cunha, Ascension Island