Australian budget 2021- Confusion over Covid vaccination targets as Josh Frydenberg defends big-spending budget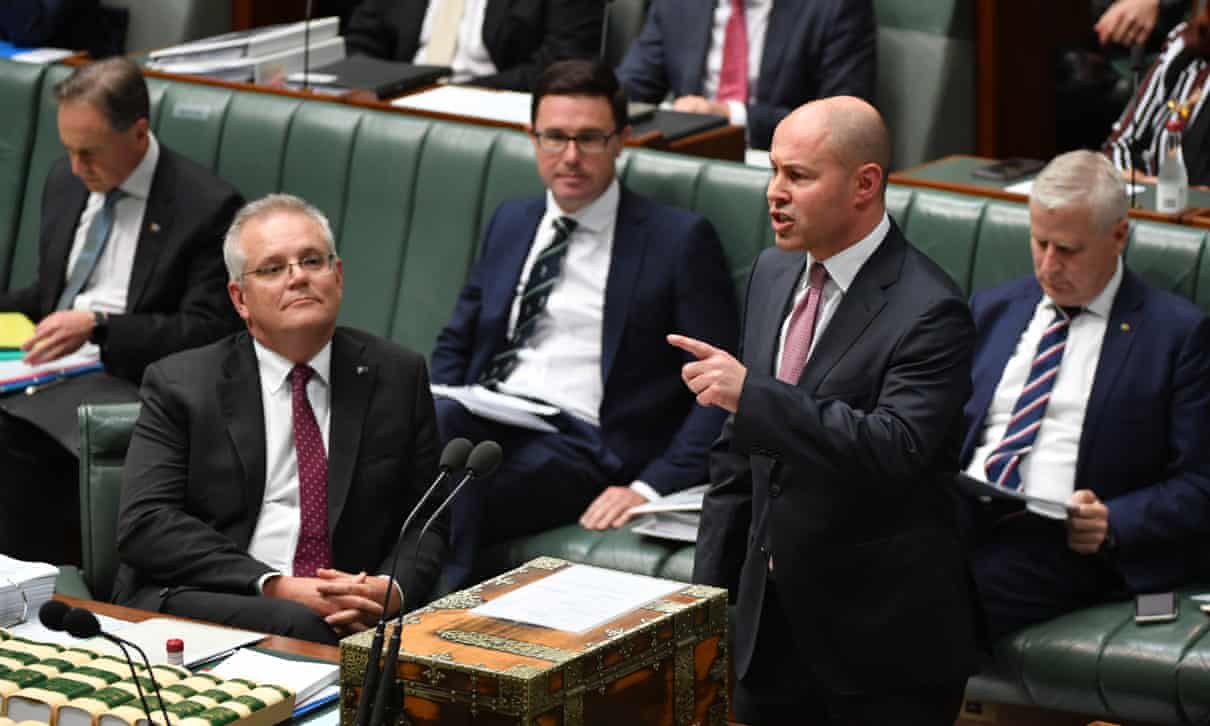 The prime minister says a budget assumption that a population-wide vaccination program will be in place by the end of the year is not government policy
Labor has blasted the Morrison government over confusing vaccination targets in Tuesday's budget, saying the bungled rollout will weigh on Australia's economic recovery, with real wages to decline despite record government spending.
As the treasurer, Josh Frydenberg, hit back at suggestions the big-spending "pandemic" budget had abandoned Liberal "true believers", Labor homed in on uncertainty about the vaccination targets that underpin the budget's rosy economic assumptions.
According to the budget papers, which show growth rebounding to 4.25% in 2021-22 and unemployment falling below 5%, Treasury's economic forecasts assume a population-wide vaccination program will "likely" be in place by the end of 2021.
On Tuesday, Frydenberg said the assumption was based on every Australian having two doses by the end of the year, however, Morrison on Wednesday refused to back that up.
"These are assumptions … that Treasury put together in the budget to guide their assessment of the estimates that they prepare," Morrison told parliament.
"That is not a policy statement nor is it a policy commitment of the government. It is a Treasury assumption that has been put in place and it makes no reference, I note, to second doses, it only refers to doses.
"The vaccination program will continue to roll out [and] I would refer members to the government's policy statements in relation to the timing of the program."
On Wednesday night, Morrison said the budget did not rely on the assumption "solely or even completely" and it would not make a material difference if the vaccination program ran into 2022.
"The vaccination program as it is set out in the budget papers just assumes that it's likely that this will be in place by the end of the year, but that could happen with two doses, one dose and it could be many months on either side of that, and that will not have a material impact on what is in this budget, and it would be a mistake to think that it did," Morrison told ABC's 7.30 program.
The budget papers note that problems with the vaccine rollout could weigh down the economic recovery outlined by the government, saying the once-in-a-hundred year pandemic was creating a period of "extreme economic volatility and heightened uncertainty" which made forecasting more difficult.
"Delays in the vaccine rollout, the emergence of additional strains of the virus, or alternatively, a more rapid recovery, are possible significant events that could cause forecasting errors to be larger than normal," the budget, which allocates $1.9bn to the vaccination strategy, states.
Labor's shadow treasurer Jim Chalmers said the country was being held "hostage" to Morrison's "incompetence" on the vaccine rollout and quarantine system, casting doubt on the forecast recovery.