Nato tells Russia to stop military buildup around Ukraine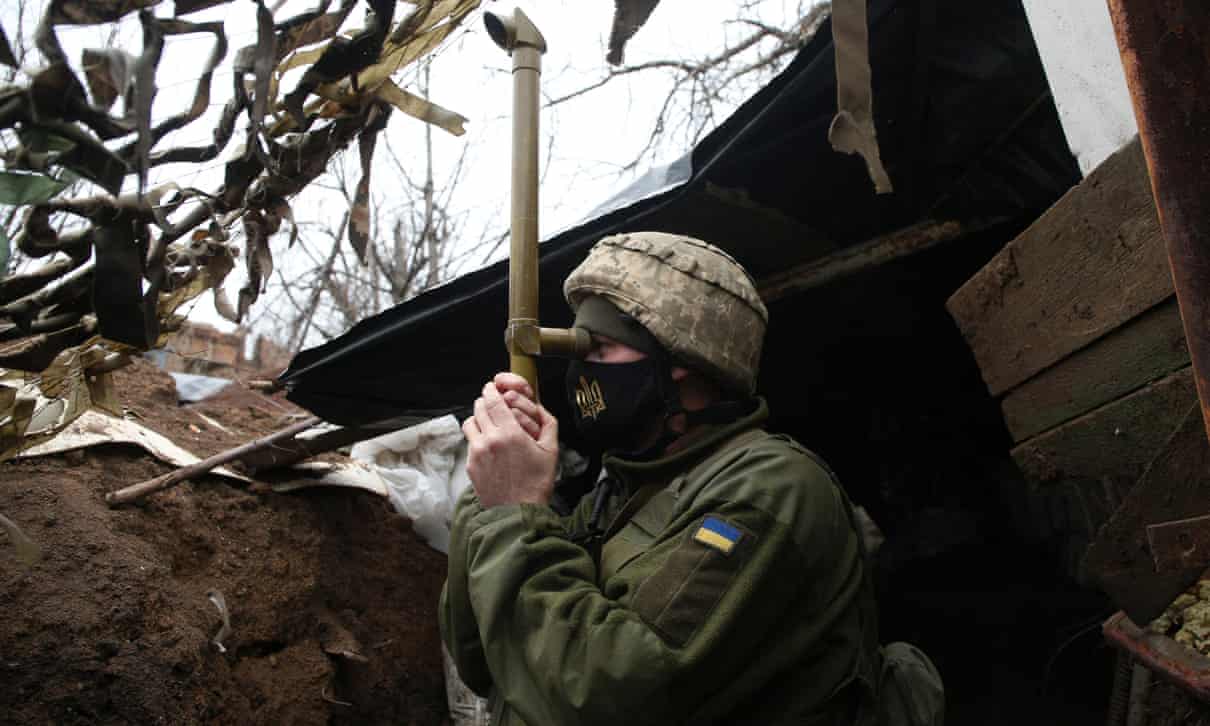 Nato's secretary general has called on Russia to halt its military buildup around Ukraine, describing it as "unjustified, unexplained and deeply concerning".
Later on Tuesday, Moscow hit back, saying the deployments were a reaction to what it claimed were Nato plans to move troops closer to Russia's borders in the Baltic and Black Sea regions.
Flanked by Ukraine's foreign minister at a press conference on Tuesday morning, Nato's Jens Stoltenberg said Russia had moved thousands of combat troops to Ukraine's borders in "the largest massing of Russian troops since the illegal annexation of Crimea in 2014".
The head of the western military alliance, addressing Moscow directly, added: "Russia must end this military buildup in and around Ukraine, stop its provocations and de-escalate immediately."
Ukraine's foreign minister, Dmytro Kuleba, had flown in for an emergency meeting with Stoltenberg to discuss the crisis, amid mounting concern among Nato members about the military manoeuvres.
Kuleba said Russia had gathered troops in three directions to the "north-east of Ukraine, and Crimea in the south and the Donbas in the east", and accused Russia of "drastically intensifying its belligerent propaganda, which dehumanises Ukrainians and incites hatred towards Ukraine".
The minister said Ukraine urgently needed help from Nato. "We need measures which will deter Russia, and which will contain its aggressive intentions," Kuleba added, and suggested they could be "a new round of sanctions, which would raise the price of Russian aggression" as well as "direct support, aimed at strengthening Ukraine's defence capabilities".
Further support came from UK foreign secretary Dominic Raab, whose country holds the presidency of the G7 group of leading industrialised nations. The G7, he said, was also deeply concerned by the large and ongoing military build up.
Following the seizure of Crimea, subsequently annexed by Russia, Kremlin-backed separatists took control of Ukraine's Donbas region, where they remain in control. Conflict has simmered between the two since, with an estimated 13,000 killed over the past seven years.
A ceasefire is supposed to be in place in the Donbas region, but violations are becoming increasingly frequent, with casualties on both the separatist and Ukrainian sides. On Monday, Ukraine's military reported one more soldier killed, bringing the total to 28 this year.
Russia had partly characterised its recent deployments as a response to increased fighting in Donbas, although observers in Kyiv andwestern countries have called that a pretext for a show of force.
continue reading